Mukteshwar – Abode of chirping birds and melodies of flute
Hidden in Kumaon hills, at an altitude of approximately 2000 meters, small & silent town of Mukteshwar is a treat for travelers who are seeking peace from the usual fast pace of life.
It lacks the label of a tourist spot, shopping destination and foodies' paradise, but yet, it is one place where I would like to go back and spend more time, exploring myself and the place.
I visited this small, picturesque town in the month of May. Intention was only to visit a cool place and get a break from scorching summer sun of Northern India. Little did I expect that this place would turn out to be such a great surprise! In month of May, Uttarakhand hills are filled with tourists, especially those who visit the famous lake town of Nanital. We had instead, decided to give Mukteshwar a chance and guess what, it was our chance to be alone with nature and ourselves.
The Arrival
The moment our car took a deviation from Bhowali towards Mukteshwar, number of cars on the hilly turns started dwindling. Totally unaware of what awaited us, and also a little skeptical about how Mukteshwar would be, we started making plans of leaving for Nanital, the next day. Out little boy was already not happy with the deviation that we had taken. All he wanted was to reach Nanital and experience ropeway, boating and buy mini games that are sold at every 10 meters on Lake Road.
We had booked ourselves into a holiday home. Mr.Bhat, the caretaker was waiting for us when we arrived. First approval came from our son, "Ghar to acha lag raha hai (House indeed looks beautiful)". And we all laughed out loud. It indeed was a beautiful two storied villa, with a spacious living room, splendid kitchen on first floor and 2 bedrooms, with a wide porch on second floor. We instantly fell in love with the place. It was very tastefully designed by the owner, everything from sofa, beds, paintings, interiors and lights were exclusive. Porch had a perfect setting with a coffee table, comfortable chairs and flower pots with blooming roses and marigolds.
Our caretaker, Mr.Bhat, a very polite and simple man, made coffee for us, while we enjoyed the view from porch. It was almost noon and we were hungry too. Mr.Bhat offered to make local style daal & jeera aloo with hilly herbs and spices, along with hot phulkas and steamed rice.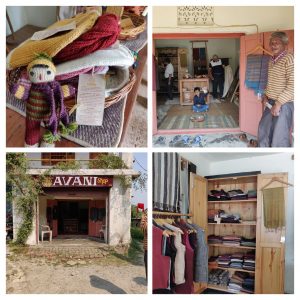 In the pursuit of….
We savored our food to the last bite and then set out to explore the unknown and unseen. We could hear a beautiful melody of flute and curiously walked towards the direction of melody to find its source.
Mr. Bhat had told us about the handicraft shop, Avani, and it was difficult to miss. A small hut shaped shop, with hand–woven clothes, colored with natural dye, stood out at the corner of the road. The shopkeeper, who was again a local guy, hired by Avani group, explained the process of making dye and clothes. We bought a scarf and organic crayons as a souvenir from Avani.
Our pursuit towards the source of flute melody continued. After 100 meters walk, we succeeded. There he was, eyes closed, oblivious to the presence of tourist, he played his tunes. It was a small café and he was standing at the entrance. We stood there mesmerized till he finished his tune.
Next stop was an organic products shop, bought some fresh hilly turmeric, aloe Vera and strawberry crush. Roses brushed each other in mild breeze and we walked ahead, in search of choco-brownie, needless to mention that who demanded it 🙂
As if Mukteshwar was hell bound to prove us wrong, a small choco-house popped up at the next corner. What happened next, needs no guessing, fresh baked brownies and some more handicrafts made way to our bags.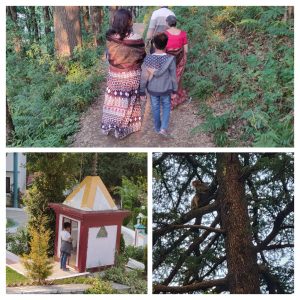 Our next stop was Mukteshwar temple, and we decided to reach there by car since it was more than 5 km away from our stay. On our way to temple, we found out that the area near temple was more densely populated with many hotels and resorts.
Our guide at the temple, took us on a trail towards "chauli ki jali" and narrated stories about the significance of the place and temple. It is said that if a barren woman passes through "Chauli ki jali" then she is blessed with a child.
Many tourists had come to the cliff for rock climbing and zip lining. With a deep gorge beneath them, I am sure these adventure sports brought in a surge of adrenaline rush.
With divine darshan of the Shivlinga at Mukteshwar temple, we headed back to our gorgeous villa to enjoy sunset with a sip of coffee.
After yummilicious dinner of Pahadi kulath ki daal, paneer makhani and parathas, we retired to our beds and promised ourselves to wake up at sunrise.

Mukteshwar Morning
It wasn't difficult to wake up before sunrise, chirping birds did the job. All of us including our little one was up even before sky started turning orange. We sat in our cozy beds, inhaled the morning breeze, and aimlessly looked at the hills. It feels so satisfying when you are not particularly planning to do anything and just enjoying the moment. That was our moment.
However, spell was broken by our boy, who was excited to see Himalayan range shining in the first rays of Sun. So we put on our jackets and started on foot to get a better view of sunrise. It was one of the most beautiful sunrise and Himalayan range sparkled for a split second. Mr. Bhat told us that the Himalayan range is clearly visible on a clear sky day or after rains. And during winters, entire town of Mukteshwar gets covered with white sheet of snow.
Not wanting to go back to our holiday home, knowing that the trip is coming to an end, we wandered on twists and turns of Mukteshwar. Mr. Bhat showed us his home in the valley, where his wife was taking the cows out for grazing.  Jingling of cow bells melted with the sounds of chirping birds.
It was now time to head back and pack our bags, but all we wanted was to extend our stay for one more day. I am sure, another day wouldn't have been sufficient though. With the aroma of hot aloo parathas and coffee, we bid goodbye to Mr. Bhat, and Mukteshwar.
Mandatory details:
How to Reach:
By Rail: Kathgodam Railway station is the nearest railhead to Mukteshwar situated at a distance of 62kms.
By Flight: Delhi to Pantnagar flight, and 94kms by taxi from airport.
Stay: Tranquil Home Stay. For booking contact: 9837040943, 9720096446, 7351481899
Best time to visit: March to June during Summer/December to experience Snow
Recommended duration of stay: 2 nights and 3 days
Travel tips: Carry warm clothes as it gets cold during evenings and mornings. Comfortable shoes would help to explore the place on foot. Try out food at local cafes or with local people.
Checkout Uttranchal tourism blog for more details and places to visit (that we didn't)
https://www.euttaranchal.com/tourism/mukteshwar.php
Enjoy your trip and do leave comments.